At Arthouse Hotel, our fabulous film themed rooms bring all the magic of the movies from the big screen to your luxury suite, so you can enjoy a one of a kind hotel experience in Liverpool.
The Wonderful Wizard of Oz is one of the most marvellously magical movies of all time and it comes as no surprise that there is plenty of fun, weird and fairly frightening facts about the making of such a fantastic movie.
Here we look into some of the movies most bizarre facts that will help you see the most magical musical movie in a whole new light.
When Special Effects Win and Fail
#1 The superb scientific special effect liquid used for the Tin Man's oil was, in fact, chocolate syrup!
No wonder he looks so happy after being oiled. Yummy.
#2 Actress Billie Burke, who played Glinda The Good Witch, was 18 years older than the actress who played her foe The Wicked Witch
The Good Witch got her some very good genes.
#3 More superb special effects here, as the terrifying tornado sweeps towards Dorothy's home.
Not the extreme act of nature you think, but actually an old stocking being whipped around in a pile of dirt and dust!
In fact, if you look close enough you can see the hand twirling the stocking!
#4 Following the yellow brick road proved quite difficult as it appeared green after the technicolour effect was applied and therefore had to be repainted
'Follow the slightly Greenish-Yellowy Brick Road' doesn't have quite the same ring to it, wouldn't you agree?
#5 The Poppy field through which the cast skip merrily through was made by hand by 22 people who handcrafted 40,000 individual Poppies.
It's all in the details.
#6 The brightly coloured horses in the Emerald city where dyed using Jello or gelatin, even though the movie would be filmed in black and white and the technicolour process later applied.
The technique worked really well except the horses proceeded to lick most of the Jello off themselves in between takes, so fresh coats had to be reapplied.
#7 When the Wicked Witch goes to take Dorothy's slippers, the sparks that fly out are actually sprays of apple juice sped up with clever camera trickery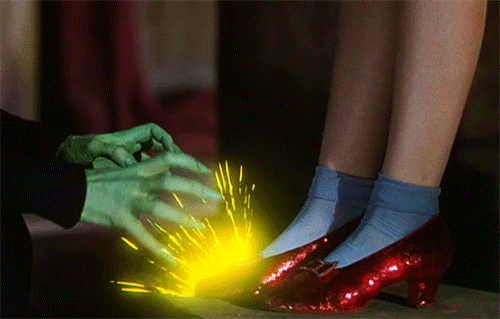 We don't know about you but that looks like some seriously potent apple juice.
The Famous Ruby Slippers
#8 The Ruby Slippers were replicated in 1989 for the movies 50th birthday and weren't cheap either coming in at $3 million.
#9 In the original story, Dorothy's slippers were silver but, to make better use of the new-fangled colour filming process, the studio turned them ruby red instead.
#10 So many people come to see the Ruby Slippers at the Smithsonian Museum in Washington D.C, that the carpet needs to be regularly replaced due to wear and tear.
#11 Last year in 2017 the slippers were removed from display to undergo, what experts are calling "an in-depth conservation assessment and treatment" or a fancy trip to the cobblers.
#12 Funds to carry out the treatment and to create a new display were raised on Kickstarter. It's rumoured that Leonardo Di Caprio and Steven Spielberg contributed in excess of $3 million between them. Now that is one expensive shoe habit.
What is Health and Safety?
#13 Health and safety went flying out the window here, as the soft white snow drifting dreamily over the sleepy characters was actually made from notoriously poisonous asbestos.
No wonder Dorothy looks a little red-eyed in this clip.
#14 Actors also complained about the harsh lighting used during filming, brighter because of the technicolour process, it ended up permanently damaging their eyes.
Ah! Bright lights, bright lights.
#15 Finding people to play flying monkeys became quite difficult as many of the actors fell several feet due to the supporting wires snapping.
Perhaps they shouldn't have been monkeying around.
#16 As well as the excessive bright light, the lamps caused the temperature to reach 100 degrees during filming. This became a small problem for one male actor, and two crew members thanks to his less than breathable costume, see fact #19, Eeeeew.
The Cost of Perfection
#17 The Cowardly Lions costume was made of real lion skin, we think PETA might have something to say about that today!
#18 . . . and it weighed 100 pounds. Must've been a big bloody Lion!
#19 What's more, the genuine Lion skin smelled terrible thanks to the extreme heat caused by the technicolour lamps, combined with the heavyweight this made the Cowardly Lion actor sweat profusely.
Two people were employed round the clock to dry out the costume after filming wrapped each day. There's no business like show business!
#20 Judy Garland was considered too plump to play such a young girl at the time of filming The Wizard of Oz and she was therefore cinched into a super tight corset.
After all, pain is beauty, apparently.
#21 A ridiculous sum of money was spent on filming Wizard of Oz, a total of $2.7 million (approximately $45.6 million today)
MGM made it rain all day for the Wizard of Oz which was initially a huge box office flop.
It Wasn't Easy Being Green
#22 The Wicked Witch used to teach America's equivalent to Reception before becoming an actress.
. . . imagine that being the first face you saw when starting school.
#23 At one point the Wicked Witch, when vanishing in a cloud of smoke, was severely burned as her bright green make-up was flammable.
She refused to complete any more scenes in the film that involved fire. Can you blame her?
#24 The green make-up used to colour the wicked witch was copper-based and poisonous, the poor women playing her couldn't eat when in costume, she survived on a purely liquid diet.
That's dedication to a role.
#25 The Wicked Witch was so scary that she even had scenes that were deemed too frightening for children and were therefore cut out of the movie.
This poor woman really did put up with a lot for a film role, surely teaching wasn't that bad?
There's No Business Like Show Business
#26 The Scarecrows Face was made up of early prosthetics that left grooves in the actor's face.
They supposedly took a year to completely disappear.
#27 Famous Actor of the time Beverly Hillbillies, Buddy Ebsen, was cast as the Tin Man but had a severe allergic reaction to the silver body paint.
#28 The same silver make-up reportedly gave the Tin Man actor a serious eye infection.
#29 Nothing is thrown away at MGM and the proof is in the pudding as the Wicked Witch's crystal ball made its first appearance in The Mask of Fu Manchu. A 1932 movie about the search for Genghis Khan's tomb.
#30 Even the Good Witch Glinda's shimmering ballgown was reused from the movie San Francisco.
MGM were thrifty when they wanted to be.
The Real Star Of The Movie
#31 Judy wanted to keep Terry, the dog who played Toto, but Terry's owner refused and quite rightly too, get your own dog, Judy!
#32 The poor little puppy even sustained injury when a crew member trod on her foot breaking it.
#33 Terry, the dog was also scared of the steam that came out of the Tin Man's hat.
#34 and she earned more than The Munchkins, but they most likely didn't care as its rumoured many of them took the job to escape a Nazi-occupied Europe.
More About The Munchkins
#35 In fact, The Munchkins got a bit of a bum deal and instead of being recognised as individual people, they are represented as one entity with one Walk of Fame Star between all 124 of them.
#36 Judy Garland even named her Oscar Juvenile Award the Munchkin award! The cheek.
#37 One of the Munchkins was a licensed pilot who served during WWII.
#38 The Munchkins were actually rumoured to be quite unruly on and offset, often throwing wild parties and drinking heavily whilst filming their scenes.
Well, they didn't get a lot else from the world famous movie so why not?
A Little About The Author
#39 The author of the Wizard of Oz, L.Baum, used to breed special chickens.
#40 The world of Oz was named so by the incredibly creative author, whose inspiration was . . . wait for it . . . a filing cabinet label O-Z!
#41 It's all in the details as The Wicked Witches death certificate is dated exactly 20 years after author L.Baums death.
#42 Despite L.Baum being an active supporter of female rights, Judy Garland was only paid a measly $500 a week while her male co-stars raked in $3,000 for the same work.
Interesting to see the times haven't changed that much eh?
Behind The Scenes
#43 It is rumoured that when Judy was filming the lion slapping scene she was in fits of giggles unable to finish a decent take.
Director, Victor Fleming, took her to one side, slapped her and sent her back to try again where she nailed the scene in one take.
#44 The cast can be seen here dancing a popular routine from the 1939 dancehalls of the age. The Jitterbug was originally a number in the movie but was edited from the final cut.

We think those were some snazzy dance moves for the time, don't you?
What if . . .
#45 If 20th Century Fox had won the rights to film Wizard of Oz, Shirley Temple would have starred in the role as Dorothy! And as much as we love Shirley Temple's charm, we do think Judy made the perfect Dorothy!
#46 Dorothy's original costume involved a blonde wig and heavy make-up, but the decision was made to aim for a more natural look.
#47 The iconic "Over The Rainbow" song was nearly cut from the movie because it ran too long.
Thankfully it wasn't . . . now you're singing it in your head, aren't you?
#48 MGM stopped Disney from making a Wizard of Oz, imagine what the genius would have done to Oz if Walt Disney got his hands on the book rights.
Oh, what magic there could have been.
#49 Oscar-nominated six times, winning best score and best original song, Wizard of Oz was beaten for best picture by Gone With The Wind.
Quite frankly my dear we don't give a damn.
#50 The Wizard of Oz is still our favourite musical of all time and one of our most wonderful movie themed rooms at Arthouse Hotel.
So, 'Follow the Yellow Brick Road' and 'Fly Over the Rainbow' to party like a munchkin in the Wizard of Oz room where our superb accommodation offers are designed to help groups of guests enjoy one of a kind party breaks in Liverpool.
All the luxury themed rooms are perfect for hen parties, stag dos and special celebrations of any kind and thanks to the superb location in the heart of Liverpool's Ropewalks, Arthouse Hotel is ideally situated for enjoying the best of the cities nightlife.
The best bars in Liverpool can be found right on your doorstep with our very own Alma de Cuba and Mulholland Singing Waiter Diner offering fantastic atmosphere, food, music and drinks all night long.
Call now and start planning a wonderful stay in Liverpool on 0151 601 8801 or email info@signatureliving.co.uk and ask more about the magical Wizard of Oz room or any of our other movie-themed rooms in Arthouse Hotel.